Ophthalmic drug delivery with suprachoroidal injections.
Unique approaches, patented solutions.
---
VISIONISTI Oy
Visionisti is a privately held R&D company, commercializing a patented drug delivery tool for the suprachoroidal, supraciliary and subretinal spaces.

The injection tool will turn normal length hypodermic needles into suprachoroidal needles, by controlling the length of the needle tip exposing from the adapter.

Combining the adapter with a needle guide, which keeps the lids open and stabilizes the eye, we will have an all-in one tool for standardized and easy, in-office ophthalmic injections.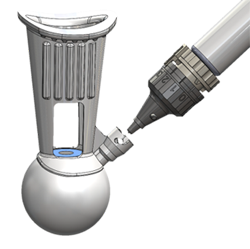 ---
Contact Visionisti today to access
the suprachoroidal space!
---
we are open for business opportunities