Suprachoroidal injection and
the suprachoroidal drug delivery
Ophthalmic drug delivery with the suprachoroidal injection.
Unique approaches, patented solutions.
The suprachoroidal space is a potential space between the choroid (the vascular layer of the eye) and the sclera (the white outer layer of the eye). It traverses the circumference of the eye, from the anterior segment, all the way to the posterior pole. The term "suprachoroidal space" is used interchangeably with suprachoroidal, suprachoroid and suprachoroidia.

The suprachoroidal space is an attractive site for ophthalmic drug delivery because it directly targets the choroid, retinal pigment epithelium and retina with high bioavailability. Thus, the pharmaceuticals injected into the suprachoroidal space will immediately get in direct contact with the sites of origin for many sight threatening eye disease. The suprachoroidal space also limits the exposure of other tissues, maintaining the concentration levels low elsewhere.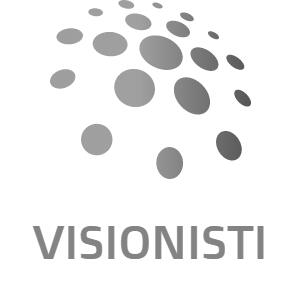 Visionisti Oy is a private R&D company, commercializing a patented drug delivery device targeting the suprachoroidal, supraciliary and subretinal spaces of the eye.

The device is suitable for liquids, semi-liquids and solid implants, and could also be used for other manufacturers injecting devices.

Visionisti's dedicated injector will turn normal length, commercially available hypodermic needles into suprachoroidal injecting devices, by controlling the effective length of the needle tip exposing from the adapter.

Adjusting the length is literally done in turn of a hand. Fast and simple. Isn't it?
Combining this adapter with a needle guide, which keeps the lids open and stabilizes the eye, we will have an all in one solution ophthalmic injections targeting various retinal diseases.

There is no need for additional instruments, such as calibers, speculums or pressure plates, not to mention their cleaning, sterilization and logistics, nor related costs.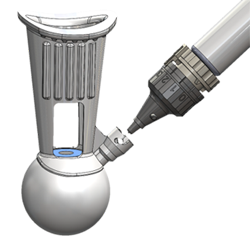 Visionisti's tool standardizes the procedure, ensuring that the injections are always carried out with a predefined angle and to a predefined distance from the limbus.

Perpendicular to the sclera and minimally invasive, this safer in-office drug delivery method does not require a surgical operation and avoids the risks related to more invasive approaches, such as parallel cannulation.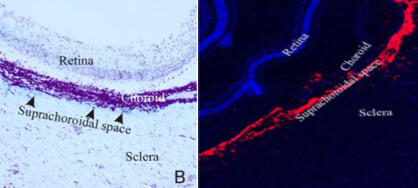 Preclinical studies have proven that Visionisti's suprachoroidal injection device is capable of delivering injected substances into the suprachoroidal space with a pin point accuracy. *data on file
Click the links below and
contact Visionisti today to access
the suprachoroidal space with your molecules!
The devices may be requested under material transfer agreement (MTA).